A part of the 2021 Bray Benefit Auction's Experiences, this virtual studio visit and conversation with Cannupa Hanska Luger is reserved for participants who bid during the auction event. Bidding participants had the opportunity to talk with Cannupa about his vast studio and installation experience, received a behind-the-scenes look at his current work, and now have access to the event recording. Join us at next year's Bray Benefit Auction for other unique experience opportunities!
Cannupa Hanska Luger


2021 Bray Benefit Auction Experience
Recording; September 2021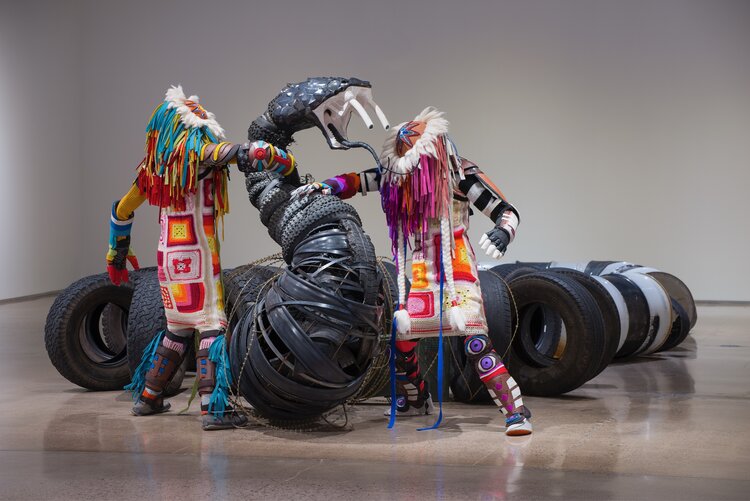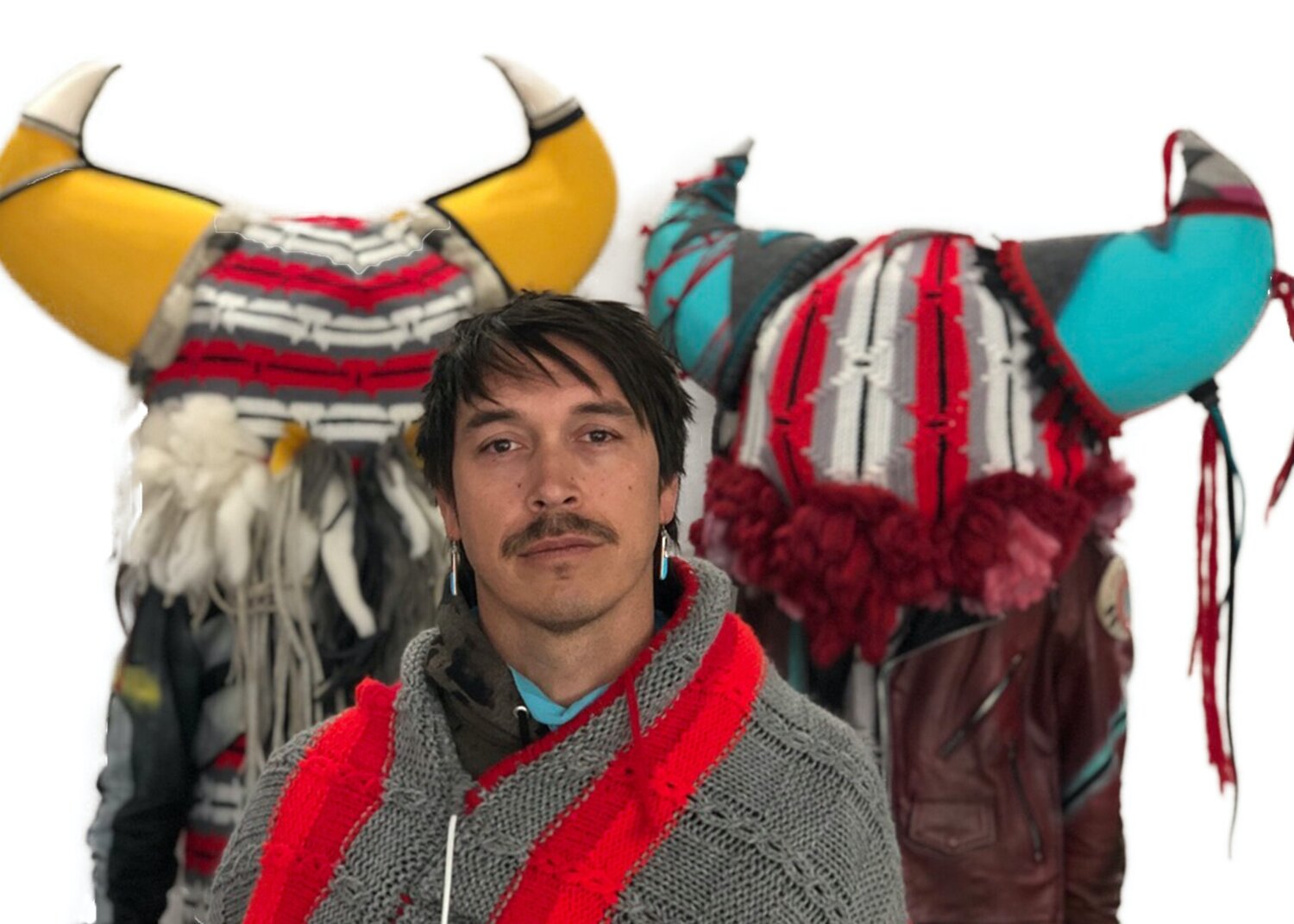 Cannupa Hanska Luger, a recent Bray visiting artist, was born and raised on the Standing Rock Reservation in North Dakota, he is an enrolled member of the Three Affiliated Tribes of Fort Berthold and is of Mandan, Hidatsa, Arikara, Lakota and European descent. Cannupa produces multi-pronged projects that take many forms—through monumental installations that incorporate ceramics, video, sound, fiber, steel, new media, technology and repurposed materials, he interweaves performance and political action to communicate stories about 21st Century Indigeneity. Cannupa's work provokes diverse audiences to engage with Indigenous peoples and values apart from the lens of colonial social structuring, and often presents a call to action to protect land from capitalist exploits. He combines critical cultural analysis with dedication and respect for the diverse materials, environments, and communities he engages.
Cannupa is a recipient of a 2021 United States Artists Fellowship Award for Craft and was named a Grist 50 Fixer for 2021, a list which includes emerging leaders in climate, sustainability, and equity who are creating change across the nation. He is a 2020 Creative Capital Fellow, a 2020 Smithsonian Artist Research Fellow, the recipient the 2020 A Blade Of Grass Artist Fellowship for Socially Engaged Art and the recipient of the Center For Crafts inaugural Craft Research Fund Artist Fellowship for 2020. He is the recipient of a 2019 Joan Mitchell Foundation Painters & Sculptors Grants, a 2019 Yerba Buena Center for the Arts Honoree and the recipient of the Museum of Arts and Design's 2018 inaugural Burke Prize. Luger has exhibited internationally including venues such as the Gardiner Museum, Kunsthal KAdE, Washington Project for the Arts, Art Mûr, Crystal Bridges Museum of American Art and the National Center for Civil and Human Rights, among others. He lectures, participates in residencies and large-scale projects around the globe and his work is in many public collections. Luger holds a BFA in studio arts from the Institute of American Indian Arts.
"My practice is rooted in the traditions of generations before me and augmented by the requirements of survival. The tradition of making things work is what influences my practice most. I work with what I've got to make the object or moment that needs to exist. Given the legacies of cultural appropriation and annihilation brought on by colonization, the endurance of these traditions -- both craftwork and the practice of making things work -- is characterized by resilience, adaptability, and survivance. In recognition of this legacy and in order to reflect upon it, I find myself working between the realms of contemporary art and Indigenous culture, moving amidst academia and the front lines, in order to both illustrate and enact a more complex understanding of contemporary Indigeneity." - Cannupa Hanska Luger
Recorded Studio Visit and Conversation with
Cannupa Hanska Luger
Available in days

days after you enroll

Virtual Conversation and Studio Visit with Cannupa Hanska Luger
Sign up for our newsletter!
Click here to receive up to date information and program announcements!